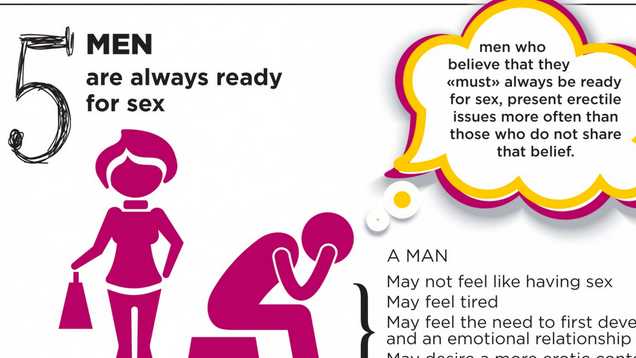 Sex is surrounded by misinformation and everyone has their own opinion based on experience or hearsay. While good information is at all time high, many misconceptions still run rampant.
This infographic is courtesy of the Greek organization Institute for the Study of Urological Diseases and details twelve common myths regarding sexuality that still unfortunately persist today. Let's count them down, shall we?

Research is great in that it sheds a different light on things than seen on TV or marketing campaigns. Maybe a dose of reality is good for us. Maybe you are normal after all and not much different from everyone else. Unreal expectations can be misplaced and be damaging to your sex life and relationships. It is important to be aware of your partner's needs and desires. Open communication is vital so you are on the same page and reduce undue pressure. Leave the outside influences of pop culture outside the bedroom door.